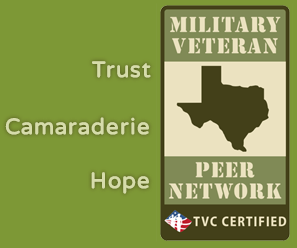 We are members of the Texas Military Veteran Peer Network and encourage you to join at https://www.milvetpeer.net/members/group.aspx?id=116385
Once you have joined, please sign up the the Central Texas Killeen Chapter and you will have access to more information regarding Peer resources available.


Our volunteers are professionals who give their time and talent to help serve those who have Post Traumatic Stress Disorder, Traumatic Brain Injury, Sexual Assault and other traumatic events in their lives. We also have trained Veterans Service Officers who can help you. We offer a variety of assistance on a case by case basis. We want to be your "travel companion" and help you get to where you need to be.
https://www.milvetpeer.net/members/group.aspx?id=116385

SPECIAL THANKS TO THE FOLLOWING FOR THEIR SUPPORT:
American Legion 223 Auxiliary (Santa Pal Toys)
American Legion Auxiliary 223 (Food and hygiene items)
Area Veterans Advisory Committee (Santa Pal Financial)
Barbara Nelson (Much assorted furniture)
Bell County (Offices)
Bell & Lampasas Counties Community Supervision (Food, Diapers, Water, Hygiene Items, Bookbags)
Bill Alley - (Love Seat, covers and pillows)
Centex Technologies (Free web hosting and updates)
Central Counties Services - Miitary Veteran Peer Network (Grant)
Cinda Hayward - (Couch with two recliners and love seat)
City of Killeen CDBG (Grants)
Deno Wilson (Financial)
Department of Texas Korean War Veterans (Financial)
EPIC Church (65 bags of Food)
Everett Kelley (Financial)
Exchange Club of Killeen (Santa Pal and other Financial)
Exchange Club of Temple-Belton (Underwear, T-Shirts, and Socks)
Fort Hood Area Thrift Shop (Grant)
Game Changer (Financial)
Good360 (Partnership for Giving)
HEB Trimmier (Grant for Food)
Hill Country Community Action (Utility Allocation)
Jack & Susan Palmer (dresser, end table and mirror)
Jewish War Veterans (Santa Pal Financial)
Joseph McConagle (Financial)
Killeen Sister Cities Osan Korea Committee (Financial)
Korean War Veterans Association, Don C. Faith (MOH) Chapter 222 (Financial)
Lori Spencer (Financial)
One Spirit Exchange Club of Killeen (Financial)
One Storage Centre (Storage Unit)
Richard and Maureen Jouett (Financial)
Austin Good 360 Sam's Partnership (2 complete double beds and 3 additional mattresses, metal display)
Sam's Temple Good 360 Partnership (1 complete double bed and 4 additional mattresses, metal display)
Serta Mattresses - Good 360/Sam's Partnership (3 double beds and 7 additional mattresses, 2 metal displays)
Small Business Administration PPP Loan
Smile Amazon (Financial)
Soldiers United Killeen Motor Cycle Group (Financial)
Star Group Veterans Helping Veterans (Santa Pal Financial)
Subhani Foundation (Scholarship for Veteran)
Suzanne Soto - (2 black couches and 2 double beds)
Terry Mustapher (Financial)
Texas Veterans Commission-Fund for Veterans Assistance (Grant)
Veterans United Home Loans (Grant)
Wal-Mart - Lowe's Boulevard, Killeen - (Assorted Items)
Wal-Mart - 2020 Heights Dr,, Harker Heights, TX - (Assorted Items)
William Abel (Financial)
Military Support Program—Veterans' Service Officer available
By appointment Monday through Saturdays. After hours, Sundays and Holidays.
https://www.cushycms.com/temporary_uploads/78327/Corpus Christi Results after implementing Peer to Peer.png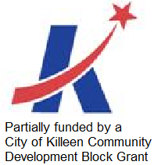 Our Military Support Program is partially supported by grants from Hill Country Community Action, Bell County Commissioner's Court, the City of Killeen Community Development Block Grant Program with funding received from the U.S. Department of Housing and Urban Development, and the Texas Veterans' Commission, Fund for Veterans Assistance. "This program is supported by a grant from the Texas Veterans Commission Fund for Veterans' Assistance. The Fund for Veterans' Assistance provides grants to organizations serving veterans and their families." Grants – Texas Veterans Commission
NOTE: DUE TO THE CORONAVIRUS OUR OFFICE IS CLOSED TO GENERAL ADMISSION. Please call 254-423-7632 for intake screening. Our staff will answer the phone line from 8-4, Monday through Friday. If they are helping someone else, please be patient and leave a message or contact via email at beitz2office@gmail.com.
Please see our Financial Assistance Application below.
Download Our Application Here:
2021 Financial Assistance App BEITZ

MILITARY ASSISTANCE PROGRAM REQUIRED DOCUMENTS: (We must have these before we can help you)
DD214 (Need Member Copy Number 4), Certificate of Honorary Discharge, ebenefits, VA Eligibility Letter or VACard (or other form of verification recognized by the TVC, FVA). Any character of discharge except dishonorable.
Identification: Driver's License, Photo ID (Military, Passport, etc)
Social Security Numbers for all household members; Birth certificates - dependent children.
Proof of Residence Address and mailing address, if different
Proof of earned income or wages (check Stub, copy of check, LES Statement, etc, covering 30 day period)
Proof of unearned income: TANF, Food Stamp Print Out from DHS (not a letter), Social Security, SSI, (Award letter for current year) VA Benefits, Unemployment, Pension Award letters etc., copy of Bank Statement showing auto deposit to bank account)
Copy of Current Lease with landlord name, address and phone number or copy of current mortgage statement and your signature
Original Copies of Bills you are seeking assistance in paying - a copy of a disconnection notice is not sufficient – need the full recent 30 day bill
Last 90 days banking transaction history all accounts
Verification about what has happened to you in past 60 days which caused an emergency or crisis for you
Completed Financial Assistance Crisis Intervention Screening Form/Application (attached)

SANTA PAL
For Veteran Families. Call 254-423-7632 for more information.

REQUIRED DOCUMENTS:
DD214 (Need Member Copy Number 4), Certificate of Honorary Discharge, ebenefits, VA Eligibility Letter or VA Card
Must sign the HUD Self-Certification Statement of Annual Family Income.
If applying for Santa Pal, we are not responsible for injury to a child from a donated toy. We pass on donated toys and Parents/Guardians are fully responsible to supervisor their children's use.

SANTA PAL TOY DROP OFF LOCATIONS:
Coming Soon.

WE NEED YOUR HELP!
Our food pantry is always in need of support. We feed Service Members, Veterans and their families on an emergency basis when the Killeen Food Care Center is closed. Please bring your food donations by our office. You can also make a contribution using the donate botton above. Thank you for your support. We are also in need of book bags filled with school supplies for children. We are also starting to collect new toys for our Santa Pal Program. Please think of us when you are looking to help others.. Items can be brought to our office at 204 Priest Drive, Killeen. Please come to back door on the right and knock. Thank you.

Maililng address: PO Box 763, Killeen, TX 76541
Ph: 254-681-9112, 254-423-7632
Fax: 254-519-3366
24/7 line 254-813-5834

Please mail your financial contributions to Bring Everyone In The Zone, Inc. at 204 Priest Drive. Killeen, TX 76541

COMMUNITY RESOURCES:
Community Resources Updates 9-17-19