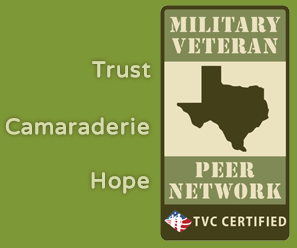 MEMBERS OF THE MILITARY VETERAN PEER NETWORK.
Join us now and check out our KILLEEN chapter information at https://www.milvetpeer.net/members/group.aspx?id=116385

Bring Everyone In The Zone, Inc. is a 501(c)3 non-profit that helps Service Members, Veterans and their Families. Our program covers three main areas, Preparing, Caring and Sharing (PCS) (See index). The members of our Board of Directors have served in the military since the Viet Nam era and forward. They are dedicated to helping their fellows to get back "IN THE ZONE".

INDEX:
See Preparing for any of the trainings we provide.
Basic Facilitator Training, MVPN Basic Training, CALM, AS+K and Mental Health First Aid schedule.
See Caring for Financial Assistance.
Resiliency Training
See Sharing for Peer to Peer Groups
For locations of Groups near you.

Our Purpose: We provide Peer Support in a myriad of ways to Service Members, Veterans and families (SMVF), especially those suffering from Post-Traumatic Stress, Traumatic Brain Injury, Military Sexual Trauma and other traumatic events in their lives. We help make improve the quality of life for the SMVP.

Who Benefits from our programs and services: Service Members, Veterans and their families (SMVF)

Our Mission Statement: To provide education and support to SMVF who are experiencing the devastating effects of Post-Traumatic Stress Disorder.To train facilitators in recognizing cases that require additional services including but not limited to medical referral and providing them with needed resources.

Our Core programs and services:Preparing, Caring (includes Operation Resilient Families) and Sharing,. We train volunteers to be facilitators, we assist our target population w/benefits, we develop resources, we help with basic needs, we hold Peer Support Groups. We provide resiliency training to families. Our activities include everything necessary to assist service personnel and their families who are suffering.These activities include, but are not limited to: screening; intake; orientation; assessment; treatment planning; counseling; case management; crisis intervention; client education; referral; reports and record keeping; and consultation.

Next board of director's meeting is Jun 23, 2022 at 1000, 204 Priest Drive and on ZOOM 357 375 2753 pass code 4bqbUk
Bring Everyone In The Zone, Inc.
Agenda Board of Directors Meeting
204 Priest Drive, Killeen and via ZOOM
December 28, 2023 10 a.m.
Agenda
Roll Call
Approval of Minutes of the September 28, 2023 meeting
Treasurer's Reports:
Director's Report
Updates
CDBG
–
TVC FVA 2023-2024 -
TVC FVA 2024-2025
CCS/DSHS/MVPN
–
Bingo ­
-
Wal-Mart
Rock Rose Foundation
United Way of Greater Fort Hood Area
–
Fort Hood Thrift Shop
–
Fort Hood Spouses Club
–
Bell County Commissioner's Court
–
Training:
Basic –
Basic Peer Facilitator
–
Mental Health First Aid
–
CALM
–
AS+K ­
-
Peer Groups ­
–
President's Comments:
Action Items:
Approval of any grant applications
Review all policies and procedures and make any changes/corrections/deletions.
Future plans
Discuss any grant opportunities that the board is aware of.
Future Agenda Items:
Next meeting March 28, 2024 at 1000.
Adjourn
Click below to open the file(s) in Portable Document Format:
2020 - 2021 Audited Financial Statements
2018 Audit Report

Audited Financial Statements

2017 Amended

2017 Schedules Amended

Internal Revenue Service - Determination Letter

2016 Tax Information 2015-2016 Audit Report

2014-2015 Audit Report

2015 Tax Information

2014 Tax Information

2013 Tax Information

2012 Tax Information

2011 Tax Information

Conflict of Interest Policy

Records Retention Policy